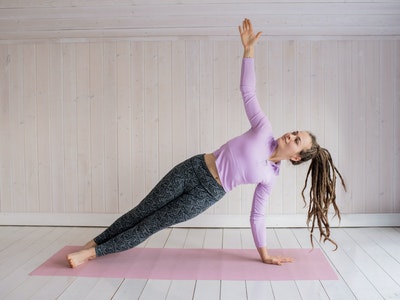 Hey, and welcome to your Hatha Yoga class. What to expect – I believe everyone with every kind of body, should be able to enjoy the benefits of yoga. Yoga is an ancient practice, going back over 5ooo years, so have its benefit's, or it would have passed as quickly as any other fashion fad. Of course, over time Yoga practice has been adapted for a more modern society. Here at The Yoga Cabin I like to make everything I teach all inclusive, from any age (16+) & gender or capability as beginner to advanced. We are all equally deserving of a wonderful experience.
We begin the class, with calming the mind, body and breath to focus our energy on ourselves. Then onto simple movements that mobilise the joints. Now we're ready for the energising and body warming Sun/Moon salutations. Then into 7 Asana (poses) with varying focus' all of which can lengthen and strengthen you for a supple, flexible and a postural strong body. In Vinyasa flow we move slowly blending the poses together with breath. Standard Hatha yoga we hold a pose anywhere from a few seconds to a few minutes.
You will learn how to focus your mind, breath and body during this class, giving a positive and rewarding result on your physical, mental, emotional and spiritual presence. Concluding the class with Pranayama – breathing exercises which clear the physical and emotional obstacles in our body to allow free flowing breath & life energy.
Finally closing with an indulgent & complete surrender to relaxation. All the Asana's can be assisted with supportive blocks, bands, bolsters and yoga belts which are all supplied at my studio. Regular attendance to this class can help you overcome stiff joints, restrictive movements, stress/anxiety and depression. You will be rewarded with improved concentration, strength, flexibility, circulation, digestion, and better sleep.
Want to know more? Contact Us